---
E-C-C 042 "Pet Fight"

Bianca is the newcomer in a privat circus institution and the director instruct Lady Mona to "educate" her to an obedient pet for all users. But Bianca bits and scratchs back on Monas legs and a fight begins in fetish wear and goes on in a steamy sexfight between the Lady and the newcomer.

E-C-C 042 Runtime: 45min. + 38min. Bonus
Buy NOW
(19.95 Euro)
---
E-C-C 041 Vicky W. vs Zoe in "Sexfight Tournament" Fight 4

Zoe knows she's hot but Vicky means that she is just hotter. They start the compete breast against breast and pussy against pussy in a sexual competition to see wich woman can bring the other to orgasmus most of all. These two voluptuous sexy women fight for your vote and to bring her oppenent in extasy!!!

E-C-C 041 Runtime: 52min. + 28min. Bonus
Buy NOW
(19.95 Euro)
---
E-C-C 040 Hot Attack

Hot Ela attacks newcomer Donna in lingeries and drives her to more and more erotic challenge poses until there hot sexfight. They fight with a stunning sexual energy in this magic hour to find out who is the better erotic catfighter.

E-C-C 040 Runtime: 49min. + 29min. Bonus
Buy NOW
(19.95 Euro)
---
E-C-C 039 Luna vs Janine in "Sexfight Tournament" Fight 3

See two sexy newcomer in a classic crotch to crotch catfight. Kinky Janina and nasty Luna biting, clawing and pulling hair in fetish ground action to win this sexfight.

E-C-C 039 Runtime: 36min. + 31min. Bonus
Buy NOW
(19.95 Euro)
---
E-C-C 038 Raging Combatants

Two hot and wild erotic catfight veterans, two gentleman sponsors and one deal. The lucky guys makes a wager for there favourite girl and the girls fights for victory and sexual domination. The winner gets all, the money and the fun to make her rival finish. See Jill Diamond and Yvette Costeau in a powerful and hard battling sexfight.

E-C-C 038 Runtime: 46min. + 34min. Bonus
Buy NOW
(19.95 Euro)
---
E-C-C 037 Battling Cats

Agressive redhair Vicky strives to control the young but strong Zoe in a sensuel submissive erotic catfight. Both women try to bring each other between there legs. They fight rough and rowdy in this hot in this hot women to women combat.

E-C-C 037 Runtime: 43min. + 20min. Bonus
Buy NOW
(19.95 Euro)
---
E-C-C 036 Hot Ela vs Mona 69 in "Sexfight Tournament" Fight 2

See Mona69, 39y. (in the black bikini) and Hot Ela, also 39y. (in the red bikini), two experience women in a rivalry erotic sexfight contest, to prove who is the better one today. They starts with hot leg tangling and hard nipple to nipple pushing to be the winner of this sexual competition. During part 1 both sexy and strong mature woman are focussed of each other in a long test of strenght before they go down on the floor.

E-C-C 036Runtime: 43min.
Buy NOW
(19.95 Euro)
---
E-C-C 035 "Sexfight Tournament" Fight 1

Jill Diamond and Jill Volans, two strong strippers get into an erotic catfight with hot closed crotch to crotch grinding action. See our first fuckfight in this sexfight tournament series that will blow up your mind and vote for your favorite girl !!!

E-C-C 035 Runtime: 38 minutes
Buy NOW
(19.95 Euro)
---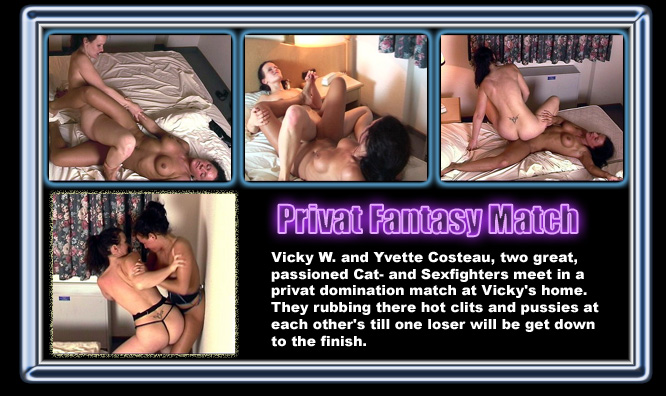 E-C-C 034 Runtime : 52 minutes + 51 minutes Bonus
Buy NOW
(19.95 Euro)
---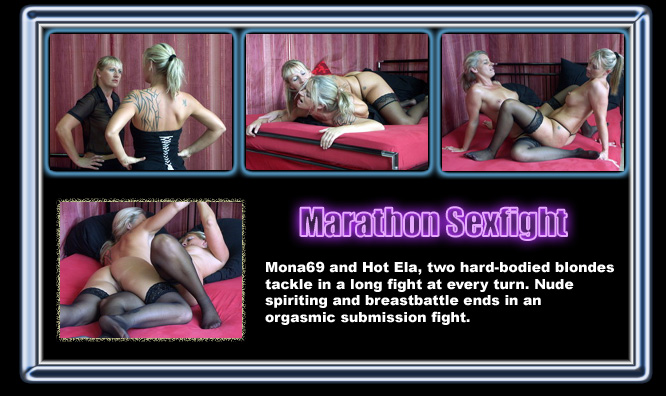 E-C-C 033 Runtime : 37 minutes + 31 minutes Bonus
Buy NOW
(19.95 Euro)
---
| 1 |2 |3 |4 |5 |6 |7 |8 |9 |10 |11 |12 |13 |14 |15 |16 |17 |18 |19 |20 |21 |22 |23 |24 |25 |26 |27 |28 |29 |30 |31 |32 |33 |34 |35 |36 |37 |38 |39 |40 |41 |42 |43 |44 |